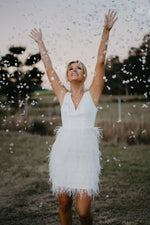 As a bride, you have so many tasks to complete while planning your wedding. It is a process that you share together as a couple, and nowadays, you can find useful tools like apps to make the process easier. But there is no better advice than the one that comes from experience and the perspective of a former bride. We have gathered some of the most valuable tips for a bride to be.
Start your plans sooner, rather than later. Leaving it all to last minute is never a good idea. Considering that popular venues and vendors book their agendas with years of anticipation. It is never too soon to start planning.


Stay true to your style. Weddings have become sort of a competition between brides to have the bigger and better event. If you find yourself hiring fireworks to impress everyone and not because you really love them, then it is time to pause and rethink what is actually important to you.


Surround yourself with a positive support system. Sometimes we have close friends and family who do not handle the pressure the right way and can cause unwanted stress. It is ok to avoid their company and opinions during your wedding planning process. It will help if you have positive individuals around you.


Feel comfortable with your wedding attire. Your wedding day will be long, and you will be going from here to there, posing, greeting, and dancing. It would be best if you felt comfortable, from your underwear to your shoes. Invest in high-quality underwear, and make sure you break in your shoes. Finally, your wedding dress should be a dream come true, but one that allows you to dance, sit, and breathe.


Schedule a hair and makeup trial. It would be best if you had a trial to make sure your style in mind works for you. Sometimes we are certain about a hairdo, but it just does not feel right when we see it on us. Once you achieve the look, you should take a couple of pictures to have as a reference for your big day.


Find the right accessories. Now that you have your wedding dress, hair and makeup style, it is time to compliment them with accessories. Your engagement ring will be the protagonist, but you need earrings, a necklace, and bracelets. If you have more than one event, make sure you also have accessories for that purpose. For example, your bridal shower, rehearsal dinner, and so on.


Pack your bag. Brides focus so much on the wedding day that they tend to forget there is a before and after. It would be best to pack a bag with all you need to get ready, including a cute outfit or robe. And how about the next day? If you have plans to meet your friends and family for brunch, make sure you pack an outfit including accessories.


We hope our advice has been helpful for you to plan and take control of your big day. It is normal for brides to feel overwhelmed at first, but there is nothing to worry about as long as you have everything organised. If you are still planning your wedding accessories for your big day and have not found the right pair of earrings to compliment your bridal style, we are more than happy to help.