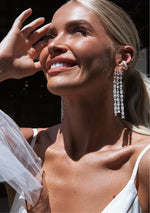 Embrace your next chapter with the éclat collection.

Deeply romantic yet intricately sleek, the collection focuses on merging luxury with nature to create an effortlessly stylish, elegant and unique piece. The collection is perfect for the contemporary bride, with intricate detailing meeting the modern design.

Widely known and appreciated for its exquisite range of colours and shapes, the
collection was inspired by the wisdom of the freshwater pearl. This, alongside the
crystals' grounding and calming effects, makes it the perfect way to finish off your
look.

The éclat collection is not just for one-time use. The jewels hold fond memories and special events deep within their core so that you can keep those unforgettable moments with you wherever you go.

The pieces arouse soothing energy whilst allowing you to glow with confidence while telling your stories, making your memories, and expressing your love. The collection boasts strength from within, with either a brass or sterling silver base and an 18ct gold coating, enhancing the stunning shine.

From subtle to statement, there is a piece for every look.