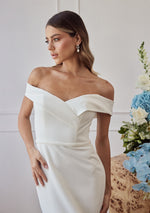 The Chatoyer collection merges the wisdom of the freshwater pearl with the healing properties of the crystal quartz gemstones to create a timeless piece.

By fusing geometrical designs, textural prints and intricate craftsmanship, we have created a collection guaranteed to offer a piece that will take you back to your special day every time you reach into your jewellery box.
Compliment your look with a modern twist on your classic bridal accessories. Taking inspiration from the symmetry of shape, the collection offers a combination of lines and angles to represent the structure, whilst the soft shapes and curves symbolise femininity and womanhood.
Most importantly, the collection reflects the contemporary woman. By taking the history of the pearl and injecting it with the influence of modern art, the jewellery encourages women to redefine their definition of what it means to be a bride.

Chatoyer translates to shimmer and glisten, something that women should not just take with them on their wedding day but every day of their life. After all, glistening shouldn't be limited to just one day.
Pair the look with our beautiful lace veils and hand-beaded bags crafted to compliment your bridal look seamlessly.