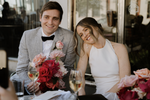 Name: Jess & Chris
Wedding Date: April 30 2021
Wedding Location: Panama Dining Room
Tell us about the styling/theme for your wedding? What was the atmosphere like on the day?
The theme was soft and romantic and fairly casual. I saw the most amazing photo of a huge bunch of peonies on Instagram by Honesty Flora and the whole style for the wedding sort of built around that - lots of bright pinks and purples and reds in the arch, our bouquets, and on the tables, and then neutral tones for the linen, the suits, and the dresses. Panama Dining Room has the most beautiful arch windows and greenery so it didn't take much to make it look incredible! We also lucked out with the most perfect weather (24 and sunny), so the afternoon light was magical.
What do you feel was the most unique/memorable part of your wedding?
The night before me and my bridesmaids stayed at Ovolo Laneways. It was so much fun - we got manis, pedis, watched rom coms, and ordered takeaway. The day of the wedding we had coffee and bagels on the rooftop before hair and makeup arrived. It was so unnecessary as we all live in Melbourne, but so worth it!
We also did a first look before the ceremony and got a quick drink with the bridal party. That took my nerves from a level 100 down to a 20 and was a lovely moment to have just the two of us, so I'd highly recommend it.
Tell us about your wedding dress & how you came to choose the perfect one.
I went to a few wedding dress shops with my mum and my sister and it was so fun trying on all the different styles! I actually almost went with a floor length dress with a train - I was panicking as a lot of the stores were saying the lead time was 9+ months. But then I thought about my own style and what I really wanted, and realized that I didn't want to wear a traditional wedding dress. I also really wanted something that would show off an amazing pair of heels. I found my dress on the outnet US and wasn't sure how it would look all done up, but then after some extensive Googling I found another bride over on Ivory Tribe who had worn it a couple years prior. She looked incredible! I had to have one of my friends over in San Francisco ship it to me. I felt amazing in it, so comfortable and light. The only challenge was keeping the linen wrinkle free (which I totally failed to do), but in hindsight it didn't matter at all.
Wedding dress brand: Rebecca Vallance
Wedding dress style name: Holliday Halter Dress
Name of Lolaknight earrings worn on the day: Alora earrings in silver
Is there anything you wish you had done differently?
Started getting ready earlier! I really wanted to avoid lots of sitting around on the day, but didn't factor in how long everything would take. Our photographer and videographer arrived and I hadn't even started on makeup yet! My bridesmaids had these incredible intricate braids, and my sister was just getting started on hers when they arrived as well. That was the only point in the day I was a tad stressed. Skye and Rae were incredible though and we ended up only being about 20 minutes late to meet the guys in Collingwood.
What advice would you give to future brides? 
Take your time making decisions and spend time researching. Don't feel rushed or pressured into going with the first vendors you meet with, or the first dress you try on. I changed my mind a few times, and I am so glad I did, as every vendor we went with made a huge impact on the day. I would also recommend getting a videographer as the day goes so quickly it's all a blur.
Tell us about your suppliers:
Celebrant: Matt Finch
Florist: Honesty Flora
Videographer: Ryan Lee @ryanleewed
Photographer: Elsa Campbell @elsacampbellphotography
Styling/furniture/decorations: DIY styling, tablecloths and napkins from Table Art Event Hire
Signage: State of Elliott
Groom's suit:  Mens Suit Warehouse
Musicians/DJ:  Rutherford Entertainment
Makeup: Skye Isabella Creative @skyeisabella_creative
Hair: Rachael Anne Evans @rae.hairstylist
Rings: Larsen Jewelry
Bridesmaids Gifts: @cosy.collective
Bridesmaids Dresses: SIR the label