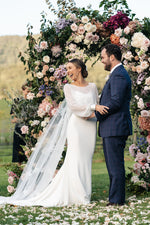 Name:  Sophie & Alex
Wedding Date:  15th of May 2021
Wedding Location: Melross & Willows Estate, Kangaroo Valley

Tell us about the styling/theme for your wedding? What was the atmosphere like on the day?  
We really wanted the wedding to be elegant and have a garden kind of vibe with the florals, which Ivy Lane Collective did so well. We used different types of candle holders which had a great effect on the room! We also moved our arbor inside and hung a neon sign under it, which became the focal point of the room.    
What do you feel was the most unique/memorable part of your wedding?  Just being able to go ahead with the wedding as it was postponed from last year! We felt so lucky that we could have our friends and family together with us to celebrate.  
Also, it was so windy and the arbor fell over a few times prior to the ceremony- thankfully, the wind abated before the ceremony started!

Tell us about your wedding dress & how you came to choose the perfect one:   I am very indecisive but wanted something simple and classic. I had also always wanted chiffon sleeves with a silk cuff. I tried on a few which I thought I'd like, but did not suit me as much as I thought they would. I ended up trying on a dress at Marry Me Bridal at Mosman which I did not love on the rack but loved on! I altered the sleeves (which were long and draping) to the style I wanted. It was so comfortable. 

Wedding dress brand: Pronovias

Wedding dress style name:  Mallorca 

Name of Lolaknight veil worn on the day:  Lillian

Is there anything you wish you had done differently? 
Nothing - we both agreed it was the most perfect day we could have ever wished for. Our guests agreed too! 
What advice would you give to future brides? 
Try and relax on the actual day - we had a wedding co-ordinator who took all our stress away. If you have the funds I would say, try and do this, as then you (and your family) will really be able to be in the moment and not worry about the little things. I think having an on the day wedding co-ordinator helped us to enjoy our day more.  
Also, I debated over getting a second dress for dancing and I am glad I did- my bustle was heavy and it was difficult to dance properly with its weight, so if you're into the d-floor I would highly recommend a second dress!

Tell us about your suppliers:
Celebrant:  Vivienne Warren
Florist:  Ivy Lane Collective 
Styling/furniture/decorations:  Ashdown and Bee/Opulent Events/Wedding and Event Creators
Groom's suit:  Pal Zileri
Musicians/DJ:   Red Soda (ceremony) & Valley Beat Music Co (reception).