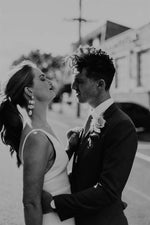 Name of Bride and Groom: Rosie & Alex
Wedding Date: 30th of November 2019
Wedding Location: Carlton Gardens, Melbourne followed by Noisy Ritual Urban Winery, Brunswick, Melbourne
Tell us about the styling/theme for your wedding?
Our ceremony was held in Carlton Gardens, which was bursting with spring so we wanted to capitalize on the natural beauty. We kept our styling simple and added touches of gold and pink linens throughout the ceremony and reception.
I chose a bouquet of long stemmed roses in a pink cappuccino. I fell in love with them and they looked perfect with my modern wedding dress.  
What do you feel was the most unique/memorable part of your wedding?
For every decision we made about our wedding, we asked ourselves "does it add to the fun?" We wanted a relaxed celebration that reflected our relationship.
Our celebrant kicked off our ceremony with so many laughs, it really set the tone for the whole affair. When our guests arrived at the reception we had a group of gospel singers. We walked in to the reception as they sang "Ain't No Mountain High Enough" and the entire wedding party were up and dancing before the song ended. It was so much fun and we couldn't wipe the smile off our faces. Everyone kept dancing and the dinner ended up being quite delayed, definitely worth it.
Tell us about your wedding dress & how you came to choose the perfect one:
I wanted a dress that suited my body and style. I loved the One Day Bridal collections, as they were a modern take on beautiful classic wedding styles.
It was such a surreal experience getting into the white gown and I loved every moment of it. At the reception I changed into a short, white, silk IRO dress. It was perfect for the party vibe and allowed me to keep dancing all night long!  
Wedding dress brand: One Day Bridal
Wedding dress style name: Kingston
Name of Lolaknight earrings worn on the day: The Rose earrings in gold
Is there anything you wish you had done differently?
Stretch it out.. it goes way to fast!
What advice would you give to future brides?
Enjoy the lead up and don't let the little things stress you out. Make sure you hand over all responsibilities and questions to someone a week out so you can enjoy being around your family and friends, it's such a special time.
Invest in the entertainment and find a good celebrant so the party starts from the get-go.
Celebrant: Nat Sproal @natsproal.melbournecelebrant
Photographer social media handles: Miranda Stokkel Wedding photography