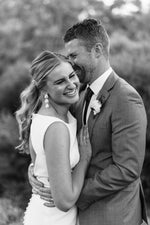 Name: Laura McRae & Chauncey Watkins
Wedding Date: 23rd October 2020
Wedding Location: Edith Valley, Coalfields Road, Roelands, Western Australia
Tell us about the styling/theme for your wedding? What was the atmosphere on the day? 
Classic and elegant style, in a minimalist and effortless way. We kept our styling simple with some specific furniture items and floral decorations. Our venue was a beautiful setting in a valley, overlooking a dam on a working cattle farm.
We wanted a relaxed vibe during the afternoon and early evening for guests; followed by an energetic night-time vibe, with the dance floor going off…and we achieved this! It was so exciting seeing our vision come to life and see all our loved ones having the best time.
What do you feel was the most unique/memorable part of your wedding?
Our ceremony was so beautiful, it was amazing to see all of our favourite people together in one place listening to our story and celebrating with us. Our celebrant (a close, long time friend of both Chauncey and I) told our story perfectly; and Chauncey's sister wrote and read the most beautiful ceremony reading for us. A very personal ceremony…. just beautiful. We are so excited to watch our wedding video, and relive this.
Our bridal party photos, speeches and dance floor were also very special, and very memorable. It's hard to pick a single moment in the wedding…. the whole day was just so magical and a dream come true.
Tell us about your wedding dress & how you came to choose the perfect one: 
My dress was a classic, elegant design. Simple yet effortless design, to match our wedding/venue style. I had known I would wear a dress like this for years, although I still had the best time shopping and trying on all the different styles available.
With my dress choice, I then chose to have statement earrings and a soft hair style to match.
Wedding dress brand:
Q'nique Bridal; purchased from Bridal by Aubrey Rose; and altered by Pearls Bridal.
Wedding dress style name: 
Q'nique Bridal – Arkadia Dress
Name of Lolaknight earrings worn on the day:
Emily in silver
Is there anything you wish you had done differently?
Nope, nothing at all. The entire day was above and beyond what we could have imagined.! I had the best morning with my girls, followed by a beautiful drive to the venue and walk down the aisle with my dad, our ceremony was very special and personal, and our reception was just fabulous! We finished the night with a packed dance floor! It was incredible; a night to remember.
What advice would you give to future brides?
Although really daunting and a little overwhelming; take a moment and look out at all your guests during the ceremony. Take it all in; all those people are there for you, and truly love you! It was so special to see all those beautiful faces listening to our story and smiling back at us.
Tell us about your suppliers:
Photographer: @ingridkjellingweddings - www.ikphotography.com.au
Celebrant:  Liz Quicke Celebrant
Florist: Fresh Floral Studio
Styling/furniture/decorations:  Hire In Style & Edith Valley (venue but assisted with much of the furniture and styling)
Groom's suit:  Suit - Myer – Blaq & Shoes/Belt - Aquila
Musicians/DJ:  Dale Fazioli (close friend of Bride and Groom) & James Wharton