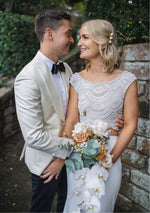 Name:  Heather and Harrison
Wedding Date: 26th June 2021
Wedding Location:
Ceremony – Newstead House
Reception – La Costa Fortitude Valley
Number of guests: 100
We love to know the back-story, how did you first meet? And how did he propose?
We met at a party nearly 10 years ago through his twin brother, who was a friend of mine. We then went on to discover that we had a lot of mutual friends, so it was very easy!! He proposed whilst we were on a holiday in the Northern Territory, after a helicopter ride to a mountain-top picnic in the West Macdonnel ranges.
Tell us about the styling/theme for your wedding? What was the atmosphere like on the day? 
Very casual and focused on enjoying the time with family and friends. We kept things relatively minimal, and found that it all just fell in to place very easily!!

What do you feel was the most unique/memorable part of your wedding?
We were the last wedding to be held at Newstead House before they closed for renovation, after being built in 1846!!
Tell us about your wedding dress & how you came to choose the perfect one: 
My top was from the brand Delila Fox, stocked in Babushka Ballerina. I tried on a handful of pieces and always felt more comfortable in two pieces than a dress, and loved the idea of changing into pants for the reception! Once I found the perfect pants in Zimmermann I knew it was meant to be!

Wedding dress brand:
Top – Delila Fox (Babushka ballerina)
Skirt – Theia bridal
Pants - Zimmermann
Wedding dress style name:  
Top – Asteria
Skirt - Dakota
Name of Lolaknight earrings worn on the day:
Earrings – Mia
Hairpiece - Emily
Is there anything you wish you had done differently?
Not at all!
What advice would you give to future brides?
Its only as stressful as you make it. Enjoy the process, and be organised!
Tell us about your suppliers:
Make up artist: Ash Camille
Hair: Tenielle Bourke
Celebrant: 
 Ben Black
Florist: 
 Ivy and Fleur
Groom's suit: 
 Institchu
Musicians/DJ: 
 Kimberly Bowden (Singer) and Ryan Livings (Sax/DJ)